---
Mendham Electric Featured in "MCW this Week"
Mendham Electric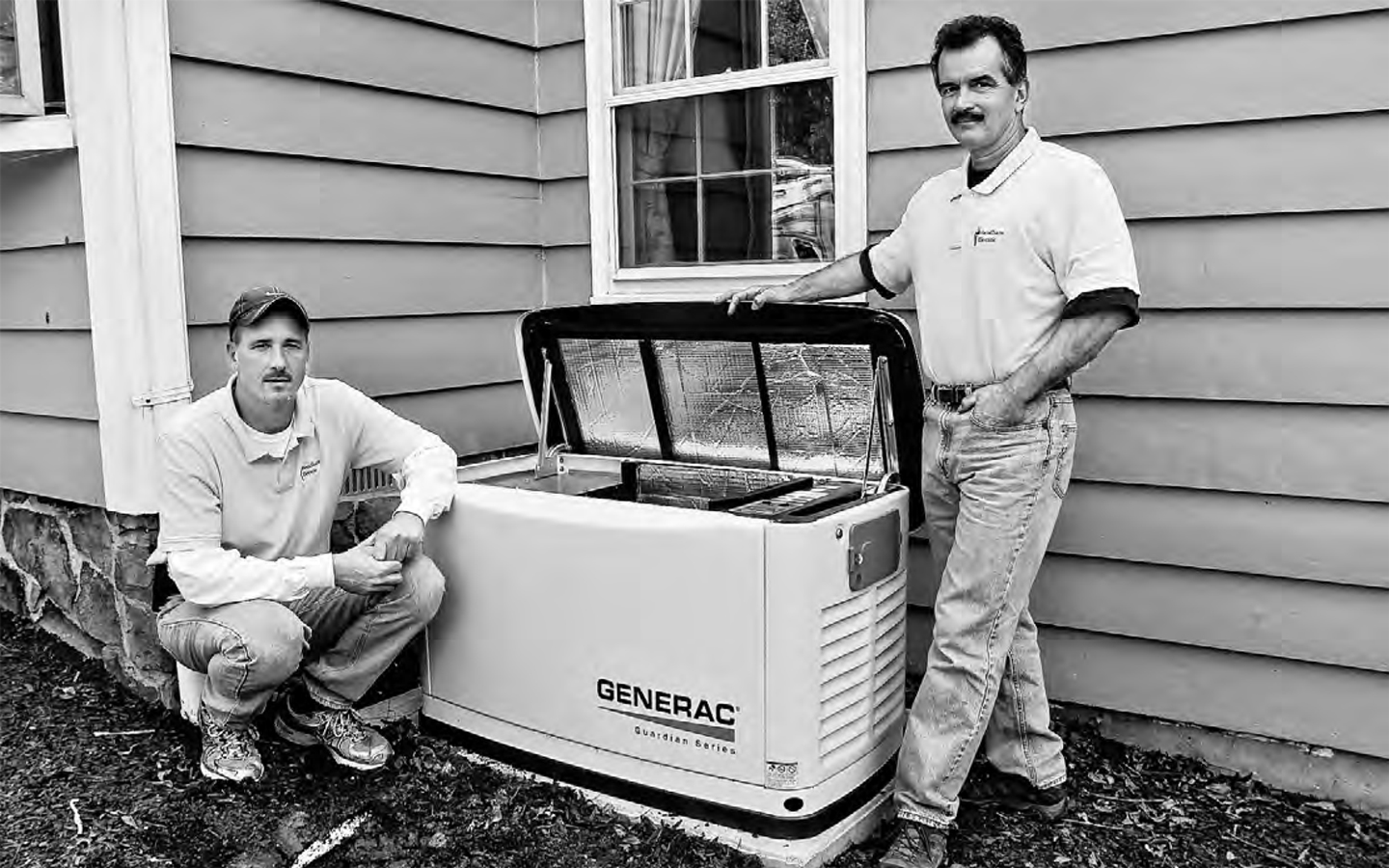 Pictured above: Darren Fitzpatrick, left, owner of Mendham Electric, and foreman Robert Snedaker, with a natural gas fired generator the company installed outside a Morristown home. Photo by Jason Towlen, Daily Record Staff
Nearly 20 years in the biz, and still sparking
Interview By Patricia Soll for the Daily Record's "Special to MCW This Week" on Wednesday, September 28, 2011
Why did you start the business? I had my own lawn cutting business when I was 15 years old and enjoyed the interactions with people. I started to do electrical work when I was in college. When I graduated, it was difficult to get a job because of the economy, so I stayed with the electrical trade. Since I enjoyed owning my gardening business, after I completed my apprenticeship, I opened Mendham Electric.
What's the best business advice your have ever received? The best advice I received was to treat every customer as if they were my first customer. It helped develop mutual respect with all my customers and maintain long-term relationships.
What personality trait helps you the most? I believe my friendly personality and genuine interest in people are the traits that continue to allow me to be successful. I enjoy spending time with my customers, and that seems to keep them calling me for projects large and small.
What's the hardest part of the job? The most difficult aspects of my job are the fluctuating costs of doing electrical work—rising material costs, general overhead and fuel.
The easiest? The easiest part of my job is making long-lasting relationships with people.
What's your least expensive product or service? Each job has many variables, but generally it is quite affordable to add and/or update recessed lighting, install roof ventilating fans, install paddle fans and provide landscape lighting. The general service work tends to be the least expensive.
The most expensive? The most expensive service we offer involves the most time and expertise in order to troubleshoot, repair and bring electrical systems that have long been neglected up to code.
Describe your most interesting work experience. The most interesting jobs have been some of the historic homes in which we have worked. The architecture and workmanship are beautiful. The history of the home and story of the owners can also be very interesting. The electrical work in these old buildings can offer some surprises, but I like the challenge.
Tell us about one of your unique experiences on the job. Once I went to do a job in a beautiful, quite upscale house. There was, however, this awful smell that I couldn't ignore. I asked the owners what it was, but they had no idea and were really worried about how to get rid of it. There was a finished porch and holes where we were supposed to install high hats. I looked up into the holes and saw two eyes staring back at me. Not only was there one raccoon up there, but 12!
When you leave the business, what will you do? I can't imagine not doing what I love to do, but one day I might like to teach a business class.
Briefly, tell us why customers should shop here. As a member of this community and the father of twins, I understand that when we work inside a customer's home, we are in essence a guest—someone the customer trusts in their home with their family, pets and belongings. We know we must carry out the work in a timely and clean manner without disrupting the daily household activities with their busy schedules.
---

To view the article as published in "Morris County Weekly", please click here.